What's new?
With the new release of OX App Suite we have added new features and improved the look & feel of the applications. Here are the highlights.
Realtime Collaboration in OX Text
To make collaboration even more efficient, OX Text now allows multiple collaborators to edit a document at the same time. Users viewing, or working, on the same document are able to see all edits in real-time as they are typing. Collaborators can edit the same text at the same time. OX Text closely monitors the timestamp of each edit to make sure edits get applied in the appropriate order.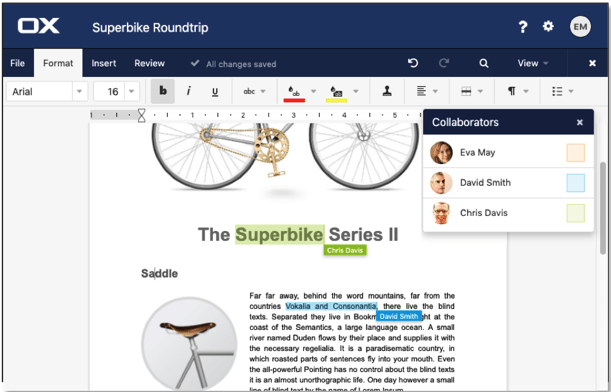 Re-Designed Contact Dialog
This redesign provides a more structured and cleaner display of a user's contact lists. It also includes a new edit dialog that is cleaner and provides better usability.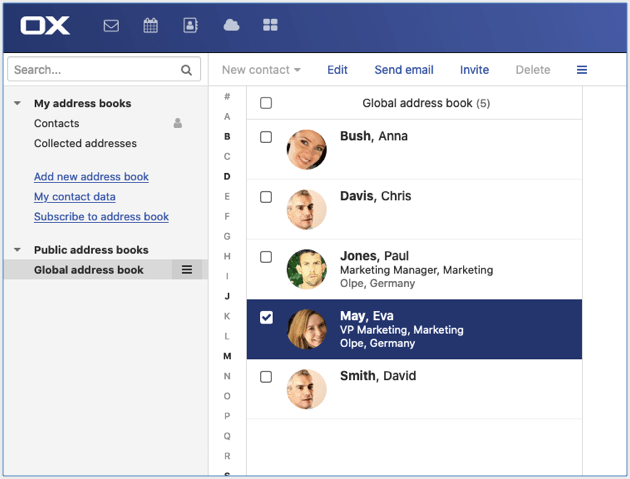 The OX Contact New/Edit dialog has been redesigned. The idea was to provide a better user experience and to be able to create contact fast and easily.
Make OX Drive the hub for all your storage solutions
OX App Suite now supports the integration of Dropbox, Box and Microsoft OneDrive in OX Drive. Now you can connect your existing storage solution and have all your files in one place.
Threaded Comments
Comments in OX Spreadsheet and OX Presentation now allow for discussions, and replies to comments, with other people. This can save a lot of time.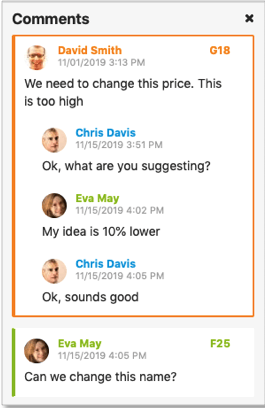 Improved Quick Launch Icon Handling
With the latest release of OX App Suite, you can now select up to five Quick Launch icons letting you switch easily between apps.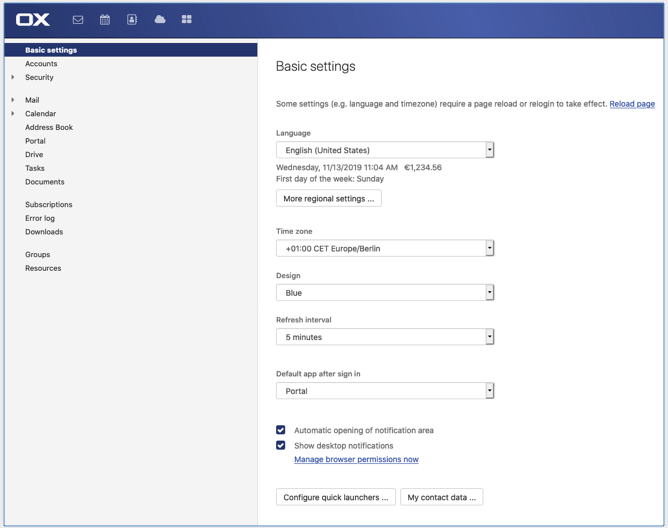 OX Guard (optional)
The privacy and the security of our communications is becoming more and more important. Now, with OX Guard, protecting your emails and files has never been easier.

OX Guard allows you to create a secure email just as easily as a normal email. Create your content, add attachments if you like, and activate encryption by clicking on the small lock symbol in the corner. When you are done simply hit the 'Send Encrypted' button. OX Guard handles the rest.
The message together with all its attachments is instantly encrypted and sent. At the other end, it is automatically decrypted and presented to the recipient as normal. If the recipient of your secure email has not setup OX Guard, they are offered a simple tour so they can get set up quickly and read your encrypted email.

OX Guard is the simple solution to expert-level file encryption.
We have also added a range of additional improvements
These Include:
Additional languages
Better Navigation in OX Text
Support for displaying pictures in HEIC format
Shapes with Transparencies in OX Presentation
Improved Window Shadow and Visual Depth of Floating Windows
New Mail Filters can now be applied to existing emails